Fact: Dustin Hoffman first met Christopher Allen Hackman at the Pasadena Playhouse in California back in 1956 and lived with both Hackman and Robert Duvall in New York 1958.
Dustin Hoffman began his acting career taking an acting course at Santa Monica City College, where he was studying medicine and music. During his time in the acting class, Hoffman said that is was the first time he could ever concentrate. After this brief encounter, he attended the Los Angeles Academy of Music, from there he would enroll in the Pasadena Playhouse. It was here that he first met actor Gene Hackman (ex-Marine 27-year-old at the time).
Christopher Allen Hackman grew up in San Bernadino and moved around quite often. His father worked at a newspaper press and dreaded dealing with his father. He found sanctuary at the movie theater. Gene attributes him becoming an actor when his father with a slip of the hand, left the family. Hackman stated,
"It was a real adios, it was so precise."
At the program, Hackman was a little older than the rest of the actors. But Hoffman had a knack for being the center of attention, and most of all, gaining the attention of the older Hackman. It was then that Hackman knew there was something about Hoffman that would take him places. In an article by Vanity Fair, Hackman stated,
"There was something about him that—like he had a secret. You just knew he was going to do something."
It might of had something to do with what Hoffman wore the first time the both of them met. In an interview with The New York Times after post-production of Runaway Jury (2003), while alongside Hoffman, Hackman recalled,
"The first time I saw you, you were in a, uh, a corduroy vest. And that's all."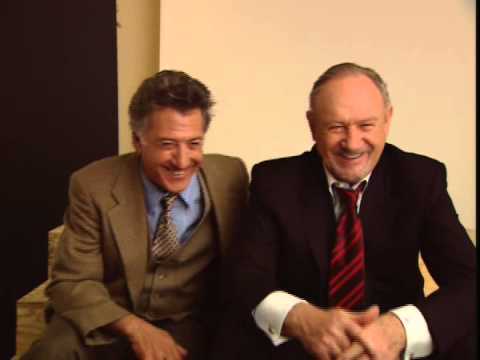 And although Hoffman has a blurred memory of him ever wearing a corduroy vest, Christopher Allen Hackman also recalls that it was a shirtless corduroy vest… and not just a vest, but also a matc
hing pair of pants.

HACKMAN —

But just a corduroy vest. No shirt or anything. And I thought, "This is a weird looking little guy."

HOFFMAN —

I have no memory of this.
And from this initial interaction, an ember of friendship materialized. The only snag was that Gene Hackman wasn't passing the cut. The program grade scale consisted of a 1 to 10 for movement, interpretation, gestures, voice projection, and attitude, which ultimately became Hackman's demise, failing out after only three months. After being kicked out of the program, Hackman moved to New York to try his luck at stage acting.
After attending the Playhouse, Hoffman moved to New York with only $50 to his name and looked up the former Playhouse classmate, Gene Hackman. According to Hoffman, his first few weeks in New York was a culture shock. As Hoffman recollected, 
"I didn't know what I was supposed to do."
After spending three weeks on the kitchen floor of Hackman's tiny apartment on 2nd Ave. and 26th St., a longer time than Hackman ever intended, Gene and Faye (his wife) had had enough.

Hackman had to forcibly take Hoffman out to look for apartments when he finally persuaded Hoffman to room with their mutual friend Robert Duvall on the sixth-floor, three-bedroom walk-up apartment at 109th St. and Broadway in 1958. Actor Robert Duvall grew up in San Diego with his father, a naval officer, whom rose to rear admiral. As a child, he moved to several cities and was a problem until, like Dustin, found his calling. Through the comedic medium, often made his family laugh threw re-enactments of old sheepherders and various other comedic plays. In 1955, after two years in the army, he moved to New York and was accepted at the Neighborhood Playhouse.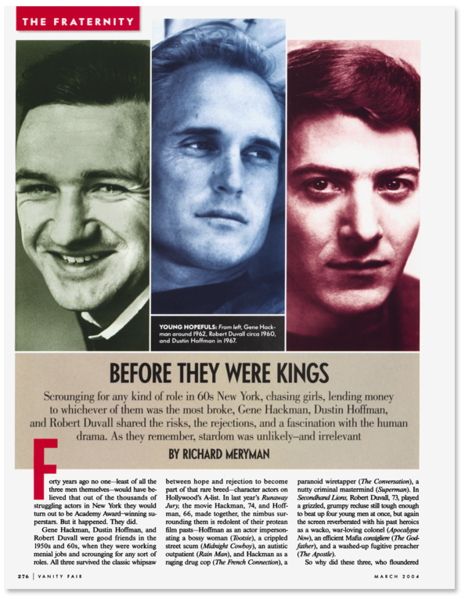 But, it was here that a bond was forged and Hoffman elevated his own status from kitchen floor to couch. Hoffman told Vanity that
"The feeling was that Bobby was the new Brando. I felt he was the one, and probably I wasn't. In a sense I was their little brother—you know, 'My friend Dustbone, he's very talented.' Gene was older and married, so I was the tagalong."
Duvall's apartment was more like a hostel for upcoming actors and opera singers, but while the both of them roomed with one another, they attributed their time to acting "because of all the girls." When they were young, acting classes were a gold mine to them. Dustin stated,

"We were obsessed with sex."
For both Hoffman and Duvall, they sought out classes with lots of girls. He stated that there were always a few models.
"One comes up to you and says, 'Hi,' like you've never looked at her, while for six months you've been imagining her in bed with you. And she says, 'I'd like to do a scene with you,' and, whoa, she picks a love scene, and you're rehearsing and it's 'Yes!' That happened to me and to Bobby.
But the Bobby Duvall encounters didn't end there. Hoffman often had girls over and Duvall would just do some crazy things. According to Hoffman,
"I'd get lucky and have a girl sleep over, and we'd be in the shower the next morning, and Bobby'd take his clothes off and just jump in the fucking shower—'Hey, I'm Bobby Duvall. I'm his roommate. I'm an actor. What do you do?'"
But at that time, it was also all about survival. All three of them would pool together and help whomever of the three was in the most dire straights. They all worked some pretty weird jobs including, but not limited to: a typist (Yellow Pages), stringer of Hawaiian leis, coat checker, morgue equipment mover, relief man (drugstore), a doorman, and much more. They even moved an art collection that contained a Picasso lithograph. Hackman recalled that after coming back down from the apartment where the art were to be housed, he took the broom he was holding and threw it in the truck immediately piercing the Picasso. Hackman said,
"like a spear. The owner was still standing there, and he just about shit in his pants."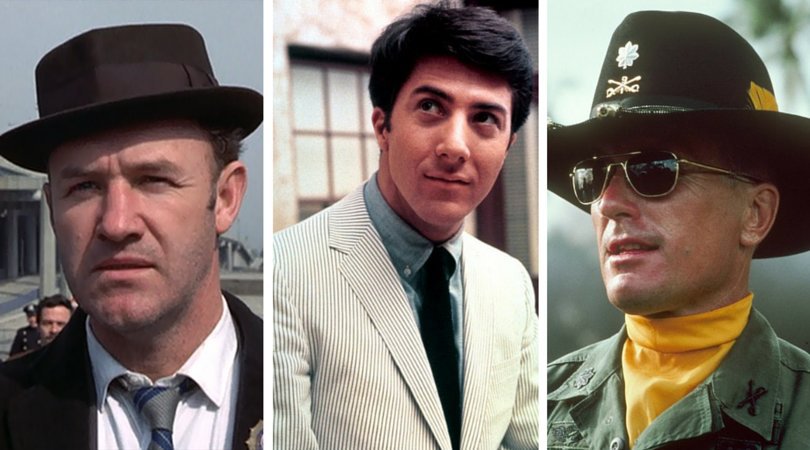 During this time, Hoffman, Hackman, and Duvall often spent time at their apartment rooftop playing the drums. Hoffman often played the bongo while Hackman played the conga. They said they did it out of their love for Marlon Brando, who was a 'character' they recall. While in the same interview with The New York Times, Hoffman recalled him and Hackman telling stories to Duvall about Brando. Brando often got his lines fed to him by a woman off set named Caroline. Hoffman explained in the funny recollection,
Of course, we understand that at our age. Brando has it down pat: he wears a hearing aid that you can't see, and a woman by the name of Caroline, who's off the set, feeds him his lines. Each one. Matthew Broderick told me he didn't know this when he did "The Freshman" with Brando. He told me that on his first day, he was sitting in his dorm on the edge of his bed, and Brando was on the other bed, and they were facing each other, and he was so intimidated — Marlon Brando! So they started the take, and he's talking, and Brando answers, and then he talks some more, and Brando answers, and the camera's rolling, and Brando keeps looking at Matthew, and suddenly, he says: "Caroline? Caroline! Are you eating a tuna fish sandwich right now? Caroline? Because I can't understand what you're saying! Stop eating that tuna fish sandwich!"
Despite their history as friends, it wasn't until close to 50 years later that the both of them appeared on the screen together in Runaway Jury.
Years later, in 1967, Hoffman got the role of Ben Broderick in "The Graduate." But originally, the role of Mr. Robinson was cast for Hackman, but got fired because he wasn't showing the director what he could do with the role. And Hackman believed in holding off for as long as you can before one commits.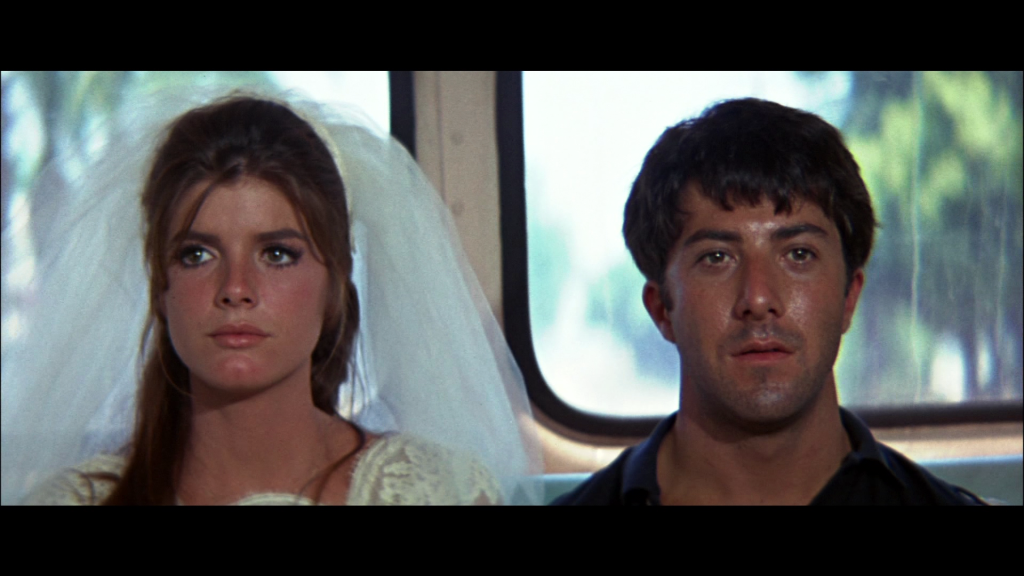 Outside their early years together, and the movie Runaway Jury, Hoffman, Hackman, and Duvall do not really ever see one another. And when Hoffman sees Duvall, the only thing they have in common is acting and girls. One night Hoffman told Duvall,
"We've got to talk about something besides women and acting."
But it all comes down to the common denominator. As they put it,
"You just have different lives."
Regardless, they seem to follow similar trains of thought. After shooting the Runaway Jury, while Hoffman and Hackman were having drinks, Gene said —
"Do you always think.."
as he talks to Hoffman,
"after you finish a movie, that no one will ever give you a job again?"
Which has come up in interviews with Duvall as well. And we wonder just how many actors have this sort of quiet time with themselves. Not long after, Hackman retired from the movie business, which was reported by his long time friend Dustin Hoffman, and now resides in Sante Fe, NM. In a report to TIFF, Hoffman stated that he wasn't too far behind Gene. And Duvall is still chasing the women!
References:
Senior, J. (2003). The 50-Year Hoffman-Hackman History. Retrieved from: http://www.nytimes.com/2003/10/12/movies/film-the-50-year-hoffman-hackman-history.html?pagewanted=all
Slotek, J. (2014). TIFF 2014: Dustin Hoffman says good pal Gene Hackman has retired. Retrieved from: http://www.torontosun.com/2014/09/06/tiff-2014-dustin-hoffman-says-good-pal-gene-hackman-has-retired
Meryman, R. (2013). Before They Were Kings. Retrieved from: http://www.vanityfair.com/news/2004/03/gene-hackman-dustin-hoffman-hollywood