Fact: In the 1999 film The Mummy, Brendan Fraser got choked out during the prison hanging scene.
Brendan James Fraser is a Canadian-American actor who came to prominence in the 1992 film Encino Man and the drama School Ties. Some of Brendan Fraser most well-known movies are With Honors (1994), George of the Jungle (1997), Gods and Monsters (1998), to name a few. But it wasn't until a little later that he would come to be a household name, that was the Brendan Fraser mummy movies, The Mummy Trilogy spanning 9-years (1999-2008).
Then, all of a sudden, in the mid-2000s to 2010, he vanished. 
In 1999, Brendan Fraser was starting to peak, catching the eye of directors in Hollywood. Directors saw him as this strapping, tall actor with character and humor. And in 1998, Stephen Sommers recognized Brendan Frasers ability to combine these features with the ability to take and give punches. In a Variety interview, Sommers explains why he cast Brendan Fraser, 
He could throw a punch and take a punch and he had a great sense of humor. You really like the guy. He never comes across as cocky or arrogant.
Brandon Fraser also liked to do most of his own stunts, Sommers said. He even injured his own knee, powering through the rest of the film to completion.
He was game for anything we threw at him.
Sommer's knew that he was born to play the role that he had envisioned. And he received the Fraser mummy scenes. It was something Fraser did throughout his career which ended up really taking a toll on his body. 
On the set of the movie the Mummy Brendan Fraser recalled the experience of working in Morocco. The cast were constantly on guard for snakes and scorpions. They were constantly receiving B12 shots in the ass whether they liked it or not Fraser stated. He recalled a momentary time when he first realized you need to be very careful where you go to the bathroom.
Anyway, there I was, pissing down a rock, and I look down and there's the yellow-dot snake. I was like, "F—!" I just ran for it.
In 1999, while shooting the prison scene in The Mummy, Fraser recalled the experience where on the 2nd take, he choked himself out. Steve Sommers explained that they wanted to increase the tension of the rope on the 2nd take to show the struggle of Fraser's character Rick, but what they didn't entirely take into consideration is that all it takes is roughly 4.4 lbs for up to 10 seconds to cut blood circulation of the artery to the brain, thus losing consciousness. And that is what happened to Brendan Fraser. As he recalls,
Rick is dangling at the end of the rope, and he's such a tough guy that his neck didn't snap. There was a hangman's gallows, and there was a hemp rope tied into a noose that was placed around my neck. The first take, I'm doing my best choking acting. Steve says, "Can we go for another one and take up the tension on the rope?" I said, "All right, one more take." Because a noose around your neck's going to choke you in the arteries, no matter what. I remember seeing the camera start to pan around, and then it was like a black iris at the end of a silent film. I regained consciousness, and one of the EMTs was saying my name. There was gravel in my ear and sh— really hurt. Steven — he and I disagree — but I think he was trying to go, "Oh, that wacky Brendan, acting up a storm again!" I was like, "I'm done for the day." ~ Fraser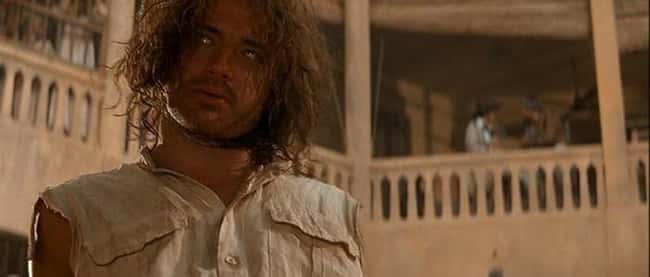 Regardless of the thoughts of both Stephen Sommers and Brendan Fraser, it was clear what they were doing was not smart but they both were committed to the effects they wanted to showcase to the audience, otherwise this moment in the hanging scene from The Mummy lore would have never happened. All of which was capture through a wide angle with light suspension. When Sommers was asked about this scene, sitting directly next to Fraser, he said in a whole heartedly joking manner,
He tightens the noose, and then, as we're about to take the shot, he's trying to make it look like it's really strangling him. I guess it cut off his carotid artery, or whatever, and knocked him out.
After the scene, it was reported that one of the stunt coordinators came over and said,
Hi! Welcome to the club, bro! Ha ha ha!'
Out of quick response, Fraser responded,
And I was like, 'Ha ha, funny? Ha ha?' Like, What the hell? I want to go home!
Did Brendan Fraser get choked out in the prison scene? took the rest of the day to rest and recover. As you can see, they still are able to poke some fun at what could have been worse if they didn't have the right people there for the scene.
The Brendan Fraser mummy movies really put a strain on him. By the time he made the 3rd mummy movie, Fraser stated that he was put together with "tape and ice". The physical strain of the stunts he did took a serious toll on the actor and was one of the focal reasons he had to remove himself from the Hollywood scene. He required multiple back and knee surgeries, and even required work on his vocal cords. All of which took almost seven years. The other reason for Fraser's dismissal was because of the sexual assault he encountered at a luncheon made him feel "ill", like a "little kid", and ultimately made him "retreat". He fell into a depression making excuses in his head that is wasn't a big deal.
Brendan Fraser today has finally able to return to the screen and speak up about his past. His performance in The Whale was riveting. He received a 6-minute standing ovation for his character Charlie, a reclusive, morbidly obese English teacher who attempts to reconnect with his estranged teenage daughter, at the Venice film festival.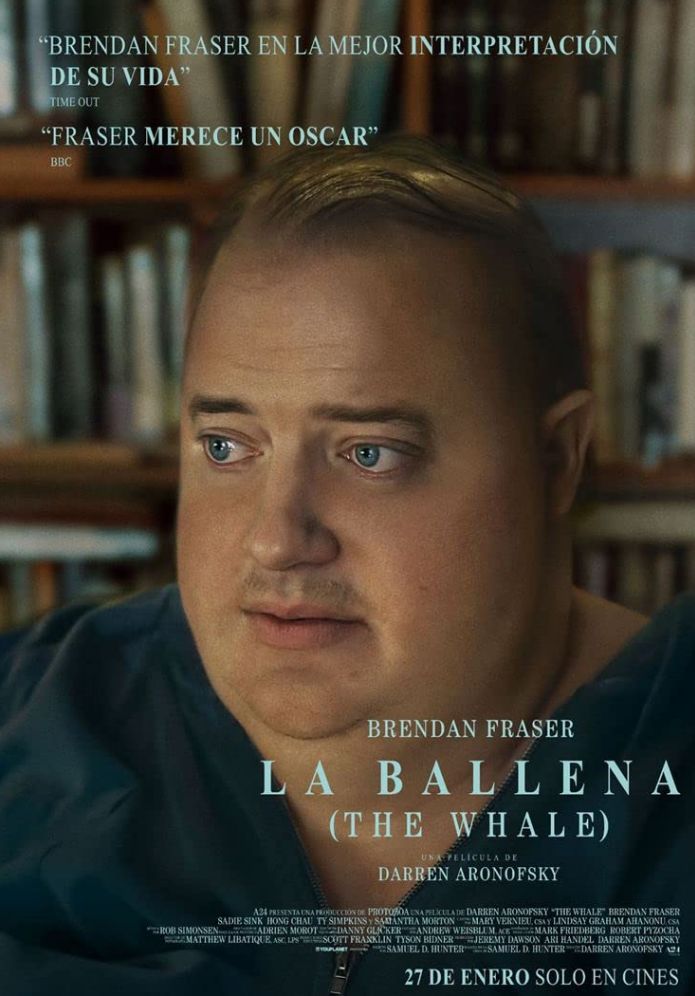 Currently, Fraser is working on several project such as Doom Patrol (2019 – ), Titans (2018 – ), Killers of the Flower Moon, and has some upcoming project like Brothers (completed), Batgirl (In production) which almost went to Sylvester Stallone, Behind the Curtain of Night (post-production).
References:
Wikipedia Contributors. (2019, November 15). Brandon Frazier. Wikipedia; Wikimedia Foundation. https://en.wikipedia.org/wiki/Brendan_Fraser
Lang, Brent. "Brendan Fraser Is "Open" to Fourth "Mummy" Movie, Says Tom Cruise's Reboot Flopped Because It Wasn't Fun."

Variety

, 12 Oct. 2022, variety.com/2022/film/news/brendan-fraser-mummy-sequel-tom-cruise-reboot-1235399752/#. Accessed 11 May 2023.

Aronofsky, D., Hunter, S. D., Fraser, B., Sink, S., & Chau, H. (2022, December 9). The Whale. IMDb. https://www.imdb.com/title/tt13833688/ (The Mummy Brendan Fraser)
Brendan Fraser Reveals Why He Disappeared From the Hollywood Spotlight for Years

. (n.d.). Www.youtube.com. Retrieved May 22, 2023, from https://www.youtube.com/watch?v=X5mqkL4lgjw

‌

‌
‌