Fact: Charlize Theron monster transformation required exquisite detail for the serial killer. Charlize Theron Monster makeup made her look uncanny like the Aileen Wuornos serial killer.
Character Aileen Wuornos
Aileen was born in 1956 to a difficult childhood. She never knew her father (was incarcerated at the time of her birth, and suffered from schizophrenia), her mother abandoned her, her grandparents physically and sexually abused her, and she prostituted herself at her school for cigarettes, drugs, and food; and engaged in sexual activity with her brother. In 1970, at the age of 14, she became pregnant, just like her mother having been raped by her grandfathers accomplice. 
Childhood trauma normally leaves a lot of unresolved and broken piece in its wake often resulting in those suffering to lash out as a protective mechanism. A lot of these unresolved childhood traumas were most definitely a factor into her later criminal activity that would land her on death row and execution.
Charlize Theron Monster Makeup
Creating the perfect portrayal of a serial killer is far from an easy task. Charlize Theron monster  is one of these faces that can be easily moldable (with the help of makeup) to create really uncanny accurate portrayals. Her efforts paid off and Theron won an Oscar (Best Actress in Leading Role) for her portrayal of Aileen Wuornos just like Matt Damon and Ben Affleck did for Good Will Hunting script. Apart from giving a shockingly unreal performance, she also underwent one of the most shocking movie transformations.
To command the role she would be undertaking, Charlize gained 30 pounds using a method known as the Krispy Kreme doughnut method. While pounding on the weight seems easy (indulging in everything you can with the most caloric intake), it simply isn't… unless you are eating Krispy Kreme. 
Actress Charlize Theron Monster had her eyebrows bleached and partially shaven. Layers of washed off tattoo ink were placed on her skin to make it look older and neglected. Theron had to wear dentures that changed the shape of her mouth and her pronunciation completely.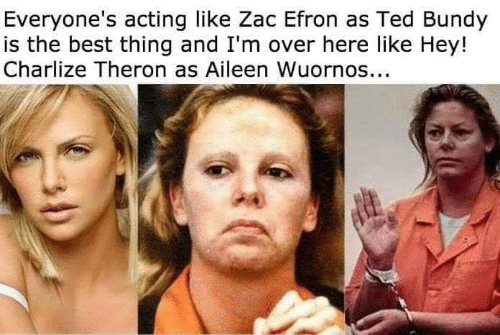 If this was not enough, Theron also had her natural hair thinned. They also had to make it look damaged, unwashed, and greasy. They used airbrush layers of translucent washes of tattoo ink plus green marbling. This gave depth of a person who had been through the harshness of life, and to give a much better portrayal of a woman who killed seven men while she was working as a prostitute.
When asked about what led her to take on such a transformation, she stated,
I didn't want it to be the kind of thing where transforming me into Aileen – which we had to do and I knew we had to do – where it became just about prosthetics and a fat-suit… and I think I knew very early on that part of me understanding her journey of who she was … the only way I was going to do that was to really truly get myself in a place where I felt the same things she might have felt … She had a baby when she thirteen; she didn't like her body. So, I wanted to get my body to a place, where I felt like, you know, naturally I'm very athletic looking and I didn't – I don't know how I could have played that part with this body. I knew I had to transform my body to get myself into her physical skin.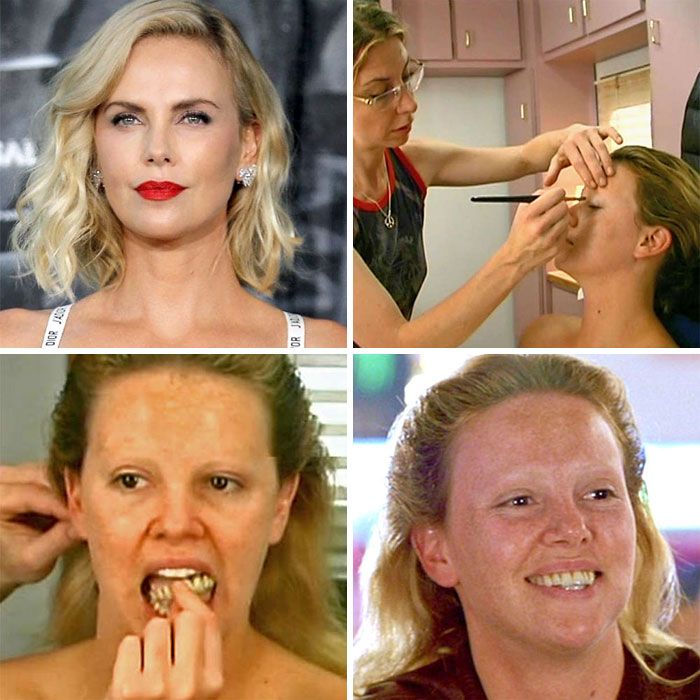 Makeup artist Toni G did a spectacular job in terms of making the beautiful actress look older, unkempt and frazzled. Apart from the ink used to age her skin, Theron was also given freckles. This entire transformation to the better part of an entire day worth of hours.
Finally, she spent hours watching documentaries about Wuornos in order to capture her mannerism in the most adequate manner. All of the effort paid off – audiences worldwide were stunned by what Theron and the makeup team had managed to achieve.
Theron said that she needed to endure all of these changes in order to understand what Wuornos was going through. The serial killer was plagued by body issues and Theron wanted to get to the same place for a more adequate portrayal of the character.
The amount of dedication Charlize had to undergo such an exhausting transformation inside and out could arguably be up there with some of the best transformations. 
References:
Davies, J. (2005). character makeups | transformations beyond makeup | Charlize Theron in "Monster" | themakeupgallery. © Jeff Davies 2021. https://www.themakeupgallery.info/character/beyond/weight/monster.htm
Charlize Theron. (2003). IMDb. https://www.imdb.com/name/nm0000234/awards
Wikipedia contributors. (2003, April 23). Aileen Wuornos. Wikipedia. https://en.wikipedia.org/wiki/Aileen_Wuornos
Grinevičius, J. (2020, July 16). 30 Before And After Shots That Show How Much Effort Is Put Into Hollywood SFX Makeup. Bored Panda. https://www.boredpanda.com/before-after-hollywood-make-up-transformations/
How Charlize Theron Transformed Into Megyn Kelly For "Bombshell" | Movies Insider. (2020, February 9). YouTube. https://www.youtube.com/watch?v=GNkaFQvjo8o&t=4s
‌